Arifumi Fukuyama (福山 有史, Fukuyama Arifumi) is a student of Kannai Academy who used his ability, telekinesis, for his best friend Takato's benefit. He is a baseball player for the school and after losing at a baseball game with Nao Tomori and Hoshinoumi Academy, he stopped using telekinesis for his knuckle pitch. 
Appearance
Arifumi has black hair, andgrey eyes. 
Ability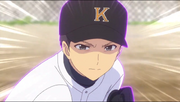 Arifumi uses his ability of telekinesis to create a knuckle pitch. Making a normal pitch, he uses telekinesis to control and drop the ball down. It is later revealed that Yu has looted his ability.